Blogging from Slidell, Louisiana about loving life on the Gulf Coast despite BP and Katrina
Tuesday, March 25, 2008
One of many business that never reopened after the storm, the Old Town Soda shop is for sale
click on photos for larger versions
It has some neat ice cream themed stained glass windows....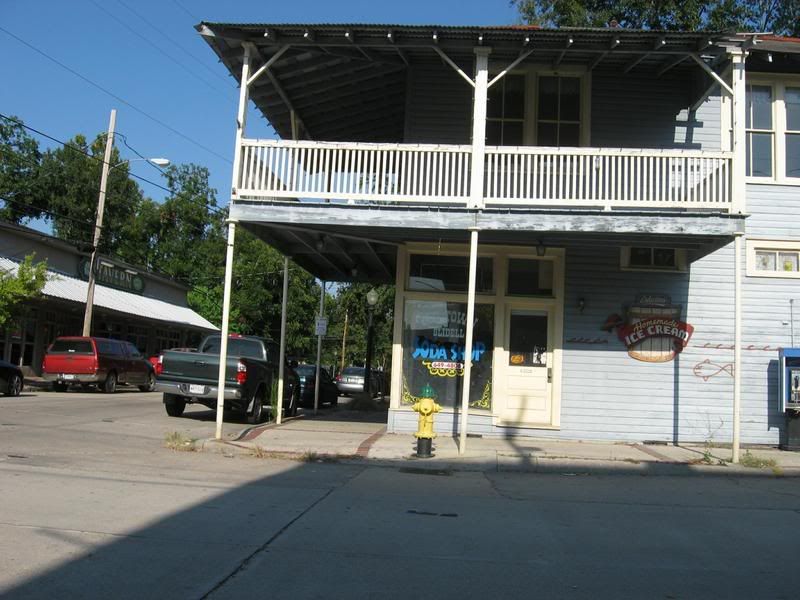 From
Fox News

Olde Town Slidell Soda Shop owner Frank Jackson stayed in his house next door on August 29, 2005 and rode out the monster storm. He watched the floodwaters — which covered the town in a massive, tsunami-like wave after Lake Pontchartrain overflowed — engulf the little company he and his wife built from scratch in 1988. He saw Katrina take down friends' and neighbors' businesses all around him.

"You just watch it go and move on," said Jackson standing near the rusty old soda fountain in what's left of his shop. "You watch your friends' businesses go, and there's nothing you can do about it. You figure life will be different."

And it was different for Jackson and his wife, Carla — totally different. He knew almost right away that the quaint old Slidell Soda Shop was gone for good.

For almost two decades Frank and Carla Jackson, both 53, had poured their hearts and souls into their popular restaurant, which Frank characterizes as an "intense" but fun business.

They hosted about 4,000 birthday parties — Polaroid snapshots of the kids still line the walls — and served homemade ice cream, as well as standard fare like burgers, hotdogs and fountain sodas.

There were no weekends off, and their days were long. But because they ran it together, close to home, they were able to spend time together and with their children.

After Katrina left, the water slowly drained and Frank got his wife and sister-in-law safely out of town. He then set to work hauling out the spoils of his shop. The 800 gallons of souring ice cream and other perishables were the first to go.

"The storm came and took it all, and I just put it out on the curb, little by little," he said. "I put about $200,000 of junk out on the street."

The original intact menus still hang above the interior destruction. A handwritten sign advertising dollar-off banana splits was also untouched by the six-foot floodwaters. Jars of multicolored candies line high shelves; an inflatable, grinning jellybean spins from a ceiling fan.
This section of Olde Town is slowly reawakening, 2.5 years post Katrina.
The former Slidell Cleaners will
soon reopen as an art gallery
.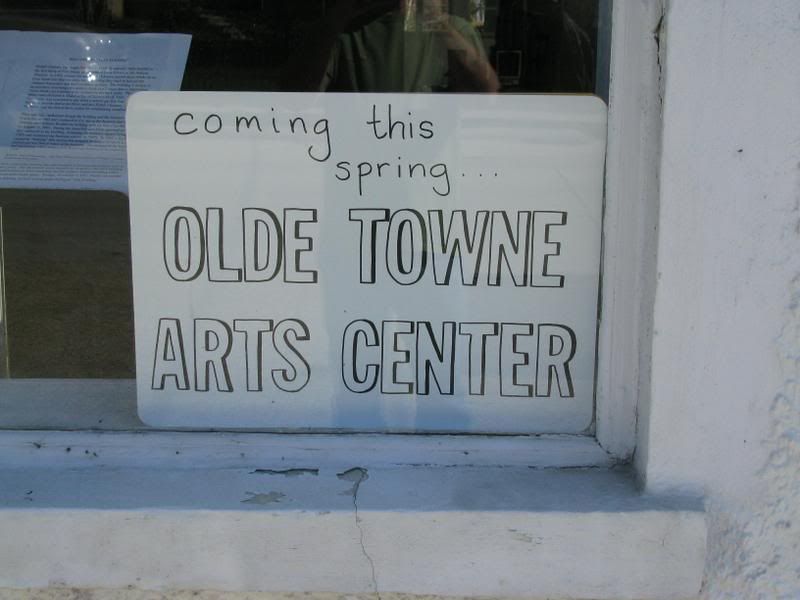 Dish On First
is a wonderful restaurant serving lunch and dinner both inside and out.
Their website is currently down
but check back soon. Here's their lunch menu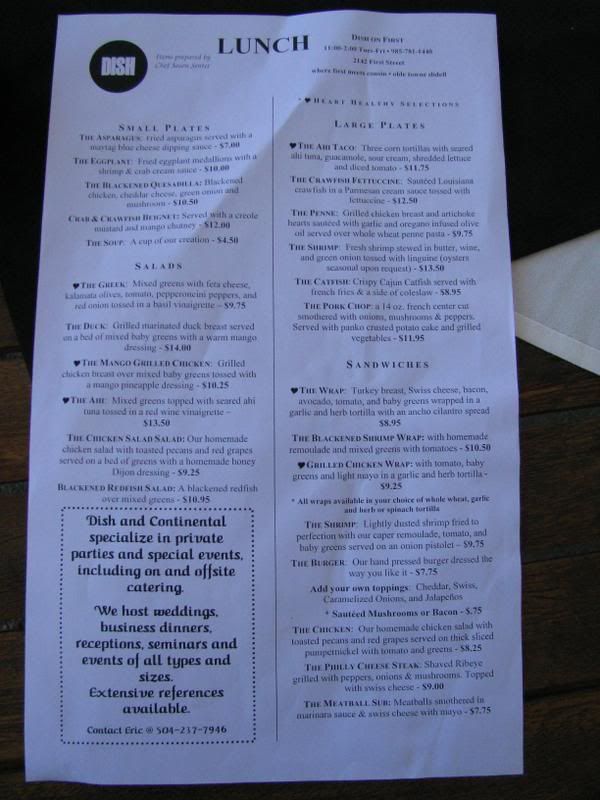 Tuesday, March 18, 2008
Photo courtesy of Patrisha Walker
Thirty months post Katrina and the little town of Buras finally has a watertower again.
Some may recall that Buras was the first
to feel the storm's power in the Gulf south region
Photo courtesy of Weatherunderground dot com
In May of last year,
I blogged about how very, very slowly the recovery was going on down there
. What may not seem like a big deal to those living outside of Plaquemine Parish, something as big as the watertower IS important news when you've seen everything you knew washed away
Here's a link to a website of a Buras resident
. She says
Today, it is shining in the afternoon sun; the golden tower overlooks our new lives post-Katrina. In Buras there is still enormous evidence of the destruction of Aug 29th, 2005. But, there also is enormous evidence of repair and growth. Many, many are coming home to South Plaquemines. In one single morning my husband counted 4 double-wide trailers pass on highway 23 headed south. Plenty are actually building homes. And I do see growth in Buras.

It is good to be home and to have a water-tower!
Her section of town still doesn't have telephone or internet service. They may get it by the end of this month.
Last August, Charles Anderson visited Buras.
In his article "Forgotton but Not Gone"
he recalls being welcomed into Plaquemine parish:
....a burly fisherman approaches me, reaching out one of his beefy hands..."Welcome to the bottom of the world," he booms in a playful, yet gruff voice. "Nobody comes down here. The money stops at the parish line. The government thinks we're not important enough, but we're staying."
Yeah, Forgotton but not gone. That's Buras, Louisiana. Bless them all!!!!
Friday, March 14, 2008
Spring is here at last and to me it is the finest time to enjoy the bounty offered by the Gulf Coast area. Nearly three years post K, this area's denizens have shown the strength and determination within themselves by coming back bigger and better.
Hubby and I are rabid festival-goers and this is prime time for us. It's not just the festivals we enjoy, either.
Last Saturday we ventured down to
Napoleon House
for lunch. The bruschetta was mouthwatering and I could eat their muffaletta every day.
By the time we finished, it was late afternoon, which proved to be a great time to snap pictures of the classic architecture of the French Quarter.
This Sunday is dubbed "Super Sunday" in NOLA. Wish I could be there to witness the Mardi Gras Indians. Hat Tip
to Ashley
Truely a treasure, the Indians will strut their stuff, so bring your cameras. Their artistic costumes are like nothing you've ever seen!! My hubby works on Sunday, so I'll be one of those folks enjoying the blogger reports, like Ashley's, on Monday.
About a mile from our house is
the Slidell trailhead of the Tammany Trace
where bikers, walkers and horseback riders have the opportunity to experience a quiet off-the-road tour of five communities along the northshore of Lake Pontchartrain St. Tammany Parish: Covington, Abita Springs, Mandeville, Lacombe, and Slidell. It's a great way to get away from your hectic week for a few hours. You have the opportunity of biking 40 miles in a few hours. Talk about burning calories!!! We've biked from the Mandeville Trailhead to the
Abita Brewpub
, had lunch and burned it all off by the end of our roundtrip. Now THAT'S my kind of exercise!!
The last weekend of March is the
St. Bernard Crawfish Festival
. We've never been, but crawfish WOULD be nice.....
Speaking of mudbugs, April 19th is the date set for the
Crawfish Cook-Off - St. Tammany's Biggest Cook-Off Event
at Fritchie Park in Slidell.
This is the third annual cookoff and it gets bigger and better every year.
50 Teams will compete for the title of "Best Tasting Crawfish". Live Musical Entertainment Lost Bayou Ramblers,Four Unplugged and Top Cats.
Money raised benefits the Fund for "End of Life" Care. Over 45,000 lbs. of Crawfish to be boiled. Tickets may be purchased prior to the event at any Northshore Whitney Bank and at the gates the day of the event.
On the weekend of April 5th the
Picayune (Mississippi) semi annual street fair happens
. This is a really great fair which spans for miles through one of the city's main thoroughfares. There are always plenty of assorted vendors (approximately 250) selling Antiques, Arts & Crafts, Woodwork,Plants,Iron Work, Preserves, Jewelry,Unfinished Furniture and a variety of foods. If you're a people watcher, this is a fair for you!!
The springtime is a great time to take Highway 90 to the Gulf Coast. While driving towards Biloxi,
be sure to look out for the incredible carvings
done on oak trees killed by Katrina along the median. Heck, pull over to get a real good look at them. The details are incredible.
While you're over there, support the economy's rebirth by having lunch at one of the lesser-known eateries, like
Rickeys in Bay St. Louis
. Or
Los Tres Amigos in Waveland
. Both places serve up some great food.
French Quarter Festival
which is IMHO one
of the best festivals around.
Celebrating its 25th anniversary this year, it runs from Friday, April 11 through Sunday, April 13 the FQ Fest offers 250 hours of free entertainment, featuring more than 150 musical performances on fifteen stages throughout the French Quarter. Nearly 60 food and beverage booths located in Jackson Square, Woldenberg Riverfront Park, and elsewhere will make up the "World's Largest Jazz Brunch," a signature event featuring authentic local cuisine from renowned area restaurants.
Also on that weekend is the
Pontchatoula Strawberry Festival
It's held in downtown
Pontchatoula
and is a festival you have to attend at least once in your life. Irma Thomas will be entertaining
on the Sunday of the festival.
So be a tourist in your own area and boost the economy by having fun.
Tuesday, March 11, 2008
The KatrinaRitaville express,
a very underreported initiative to tour the country with FEMA trailers to spread the word about criminal enterprise known as FEMA
photo from
foodmusicjustice.com
What they're about (from their website)

Several Gulf Coast organizations have purchased two FEMA trailers, which will tour the country over the next year to raise awareness of the ongoing nature of the crisis in the region, and the continued lack of coherent government action to rebuild the region, particularly to rebuild in a manner that meets the needs of its poor and minority residents.

The trailers will be used as a focus for local education and organizing, as a challenge to presidential candidates to make their plans for Gulf Coast reconstruction clear, and as a rallying point to help to mobilize the many thousands who have volunteered their time in work projects to now join in the political efforts to force meaningful government action.

Thursday, March 06, 2008
From the T.P.


Two U.N. advisers labeled the planned demolition of four New Orleans public housing complexes as "discriminatory" even though neither visited the city to research the issue.
The U.N. specialists now acknowledge that they haven't been to New Orleans since Hurricane Katrina and were basing their opinion largely
on the views of activists who have waged an unsuccessful campaign to halt the demolitions.
Miloon Kothari of New Delhi, India, the U.N. Human Rights Council's specialist on adequate housing,
and Gay McDougall of Washington, D.C., the U.N. independent expert on minority issues, joined ranks with opponents of the demolitions already under way at the St. Bernard, C.J. Peete and B.W. Cooper complexes.
Although the duo say they released the statement to influence the U.S. Congress, the timing of their comments could have broader influence.
Here's the part that bothers me
"Yes, some people were consulted," Kothari said,
"but the fact that people's property was destroyed.......
They are public housing units, Mr. Kothari.
In a related article in today's paper
, the University of Texas at Arlington found in a survey they did
that 70% of people who lived in public housing pre-K don't want to return
Federal and local officials reacted strongly last week to the pair's statement. Sen. David Vitter, R-La., called it "theater of the absurd."
HUD said Kothari and McDougall "are misinformed about the state of public housing in New Orleans," adding that the plans to demolish old, hurricane-damaged complexes is part of a wider effort to move to a mixed-income model that will help "minority and low-income Americans . . . live in a socially and economically integrated environment."
Tuesday, March 04, 2008
Still volunteering in Pearlington and the coast after 30 months,
One House at a Time
continues building homes for those left without anything in Hancock County, Mississippi.
From their website:

Pearlington lies in the southeast corner of Hancock County, along the Gulf of Mexico. Hurricane Katrina brought widespread devastation to the county with 40 confirmed deaths and millions of dollars of property damage. Nearly 70% of the county's homes were left uninhabitable. The coastal communities were among the hardest hit areas. Pearlington, a small community of 2,200 people, was particularly devastated, as nearly every home was either completely destroyed or severely damaged. There is no Habitat for Humanity affiliate along this area of the Gulf Coast of Mississippi. Hundreds of residents were living in tents in the aftermath of Katrina. Many have only what they were able to salvage, and in many cases they have nothing at all. As of Feb. 2008, there are dozens of residents STILL living in FEMA trailers.

If the video can't be seen here,
here's the link to it
From the creator of this video:
I began filming this story one month after Katrina came ashore, and I recently returned to the devastated and impoverished town of Pearlington Mississippi. Even though its several miles from the actual coast, the storm surge and the wind brought this place to the brink of its very existence. The waves that came through this town and destroyed everything in their path first had to pass through a few Chemical Plants and Oil refineries out in the Gulf of Mexico. This was not merely sea water that carried these homes away, it was a deadly stew of unknown and unreported toxins.
This story follows the recovery efforts of one group that has been based in Pearlington as soon as the roads were clear enough to get in. One House At A TIme is building homes for people of Pearlington who want to stay in the place where they call home. This video tells a little of their story, but anyone who has been there will tell you, there is no video that can be shot that can express the sort of devastation that has occurred on our own soil, to our own people. So go see it for yourself, and bring a hammer.
Thanks to
Clayton Cubitt
for bringing this to light
Monday, March 03, 2008
FEMA
In addition to turning away trained first responders at gunpoint, FEMA decided to throw out all the band instruments at McDonogh 15 School for the Creative Arts in the French Quarter. Did the school flood? No. Not a drop, but some "mold" was detected on a few of the instruments so out they went. (Cleaning them with bleach would fixed the problem.)........Everyone knows that FEMA knowingly kept thousands of people in trailers contaminated with formaldehyde before they admitted to the problem.
Now it's been discovered that that just wasn't enough, so the good folks at FEMA added an extra twist to the trailer scandal.
Used trailers returned to the criminal enterprise (also known as a government agency) were sold to the public. The funds were to be used - 100% of them - to purchase additional emergency housing.
A 2006 Congressional investigation found that the criminal enterprise invested taxpayer dollars in emergency supplies like iPods, beer-making equipment (OK, that could be a legitimate emergency) and designer jackets. Just what every emergency victim needs. Designer duds. Or do you think those ended up in employee closets?
Thanks to
Food Music Justice dot com
Here's an exerpt from an
Op Ed piece that appeared in the New York Times last week about the state of the country's levee system

Last month, a 30-foot section of levee ruptured in Fernley, Nev. While the cause of the breach, which swamped 450 homes and forced dozens of people to evacuate, is unknown, anyone familiar with the drowning of New Orleans by Hurricane Katrina will tell you this: Levees fail.

Indeed, there are more than 100 antiquated earthen berms across the country in danger of collapsing. What happened in Nevada is a harbinger of a much larger problem nationwide.

Click here to read the entire piece
Thanks to
Food Music Justice dot com
From
the website Food Music Justice dot com

To me, there is no story more pressing
than New Orleans - what happened there,
and what hasn't happened.

In a way, it's a window on the soul
of America.

On the one hand we see an unspeakably
corrupt administration. On the other hand courage and generosity that restores one's faith in human nature.

New Orleans in spite of being 80% destroyed by the failure of the federal levee system is coming back strong.

Strong enough to host the NBA All-Star game, to stage over thirty large scale parades during Mardi Gras, to operate its schools, hospitals, roads, hotels and restaurants.
The music is back and the incomparable food and culture.

All without the help of the federal government which promised so much and has done so little
- and done so much harm.

Three short videos that tell the story:

1. A short art piece which conveys the pain of losing one's home whether in New Orleans or Bagdhad.

2. A rare and little seen video that captured what it means when a levee fails: "From street to roof in three minutes"

3. A vivid recap of how thoroughly the city and its people were abandoned by the government whose job it was to help.

Click here to see the three videos
Thanks to Ken McCarthy of New York for keeping the word out
Sunday, March 02, 2008
Barnes and Noble Chairman Leonard Riggio announced plans to invest $20 million in Gentilly
at a press conference last Tuesday (February 27th).
In an initiative that should place at least 120 families into new houses built with energy-efficient features and elevated to a height that should protect them from future floods. Riggio plans to spend $20 million from his family's charitable foundation on the effort.
Residents who participate in the program will receive a new home at no cost, provided they surrender their flooded, uninhabitable house -- or the vacant lot where it once stood -- to Project Home Again, the nonprofit that Riggio spun out of his foundation. The charity will give each family a mortgage equal to the difference between their new and old homes and then steadily forgive the mortgage over a period of five years, after which the family will own the house outright.
A devotee of New Orleans music, Riggio said no flood could wipe out the music, food, culture and "genius" that New Orleans has bequeathed the rest of the country.
Project Home Again
will construct single-family homes on 50-foot lots in three sizes: two bedrooms/two baths; three bedrooms/two baths; and four bedrooms/two baths. The homes, which will be offered at no cost to eligible families.
PHA is intended to be a zero overhead operation, with all $20 million going directly to building homes. Eligible applicants must have lived in Gentilly two years prior to the storm and own a home (or former home site) in Gentilly that is uninhabitable due to Hurricane Katrina. They must be willing to swap their old uninhabitable home or site for a new home, and have a family consisting of two to eight individuals.
Here are the eligibility requirements
From the Sunherald dot com:


Live Oaks are being planted along the Gulf Coast.
It will take many years before their replacements reach the grandeur of the originals, but the new Live oaks being planted will be spread along the Coast from Gulfport to Pearlington.
Volunteers planted five Live oaks at the
Humane Society of South Mississippi
on U.S. 49 in Gulfport.
Other planting sites were Clower-Thornton Nature Park
Turkey Creek in Gulfport,
Railroad Park in Long Beach
War Memorial Park in Pass Christian,
as well as sites in
Pearlington, Bay St. Louis, Waveland, Lakeshore and Henderson Point.
Three Live oaks are being planted at the foot of the Bay St. Louis Bridge.