I know the rest of the country's been suffering "Katrina Fatigue" for some time now: tired of hearing about how things are difficult down here, tired of hearing about people who want handouts, blah blah blah.
NPR has run a story about REAL Katrina Fatigue in its piece covering
Gulf Coast Mayors.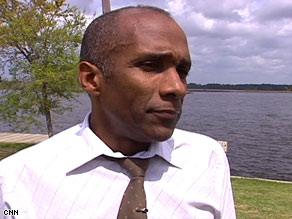 Moss Point, Mississippi Mayor Xavier Bishop works from a white trailer next to the damaged City Hall, which will soon be torn down. But his office is surprisingly barren. There are none of the customary photos of the mayor posing with the local Little League team or accepting an award from the Rotary Club, just piles of paperwork and empty display cases.

Bishop says it took two years and navigating a litany of red tape to get federal and state funds to help the city regroup. And citizens have grown frustrated with the slow progress. It's come with a price for Bishop.

"Fatigue. I am worn out. I'm battle worn, I'm battle scarred," he says.

Bishop is one of five Mississippi Gulf Coast mayors who are not seeking re-election. One of them is embroiled in a Katrina fraud scandal, but the rest say they can't muster another four years of dealing with the storm's aftermath. That means a new crop of leaders will have to come up to speed fast.

Of those calling it quits, perhaps the biggest surprise came in Bay St. Louis where Mayor Edward Favre is retiring after 20 years.




"It was a tough decision but I thought about it and thought about and I just couldn't find the spark," he says. "I've always said if I didn't have all to give, I didn't belong. And this last four years has just really taken its toll."

Favre, 55, was raised in this bayside town of 8,000 near the Louisiana border. He's a soft-spoken, animated character with a stout build and a quick laugh.

"It's still home and it always will be," he says. "When we get far enough away where we can't smell the salt air and hear the mullet jumping, it's too far from home. Too far from home."

The mayor is driving along the once washed-out beach road, where workers are trying to rebuild the city's infrastructure.

"This is the area completely replacing all the utility lines, also including the new sidewalks and roadwork," he explains. "Hopefully putting everything back the way it was pre-Katrina."

Favre admits the city wasn't prepared for the devastation that Hurricane Katrina brought. It had not set up shelters and didn't think many parts of town were threatened because they had survived the deadly Hurricane Camille in 1969. They were wrong. Katrina's 30-foot storm surge practically wiped the town out. And for Favre, there was a personal toll as well.

"I came out of it with a pair of shorts, flip-flops and a T-shirt. That's all I had left to my name," he says.

Those shorts have come to have some significance here.

"Shortly after the storm we had a meeting and the president came down, so I go to it in flip-flops, shorts and T-shirt. And everybody said, 'What are you doing?" Well guys, no offense, that's all I have. I don't own a pair of long pants, this is it period. And so it came to signify that until the city was put back together, until it was made whole again that I'd wear the shorts. When you start dressing up it kind of signifies that everything is OK, and everything's not OK."

The next mayor of Bay St. Louis will have some short pants to fill.