Just catching up on the news of the week after spending some time behind the walls of the hospital recovering from an extremely vicious attack on my digestive system and ran across this story about Hurricane Ike
disturbing - actually freeing - the remains of the late, great Clarence "Gatemouth Brown
I see that
Varg caught this story first,
but I just had to talk about it too.
According to The Associated Press, the Grammy winner's casket was one of dozens .......that floated up from the ground as Ike's gulf and rain waters flooded Hollywood Cemetery, (note that this story incorrectly identifies the cemetery as being in Bogalusa, Louisiana when it is actually in Orange, TX)....
...two days after Ike reached land, water gurgled and bubbled ominously from submerged graves ..... the top of Brown's vault had popped off, and his bronze casket had floated away. But three jars of Bama grape jelly remained by his aluminum marker, no doubt left by a fan of his instrumental classic "Grape Jelly."
"Somebody made the comment that he's evidently still touring. He probably wouldn't care too much to be in the ground anyway" said Gate's longtime manager Jim Bateman of Bogalusa.
Gatemouth's trademark was a cowboy hat, with boots and Western wear.
He liked to smoke a pipe.
And his long, thin fingers glided flat over guitar or fiddle strings with the grace of a ballet dancer.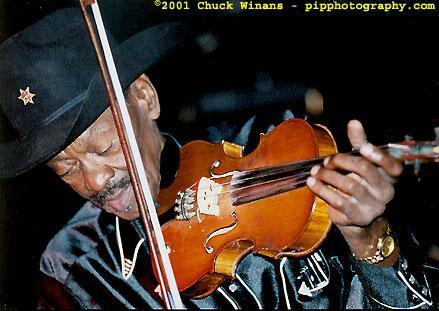 He called himself a "guitar slinger" and had a stick figure caricature he used, including one attached to his black Cadillac.
The 81-year-old musician was living in Slidell when Katrina destroyed the city.
Gate went home to Texas die after evacuating from Katrina in September of 2005. When he evacuated to Orange, he brought an oxygen tank, which he had been carrying everywhere. He played the New Orleans 2005 Jazz Festival in April using the oxygen tank, Colin Walters, Gatemouth's last biographer, said.
image from pbase dot com
Orange local educator and church music director Robert Finch is on a quest to put a label on Gatemouth - well, at least on his grave.
Finch has set up a non-profit group to raise money for a tombstone and hopefully a state historical marker. He ultimately would like to see a statue of Gatemouth in the cemetery.
The account for
Gatemouth Brown
is set up at Sabine Federal Credit Union in Orange, Texas: Gatemouth Brown Memorial Committee Acct # 1892149.
I'll be contributing and hope you will, too. Gate was a great musician. Hubby & I were lucky enough to have several opportunities to
see and hear him live in Slidell before his death
. What a colossal talent he was.