It takes a "special" person to abuse a helpless animal.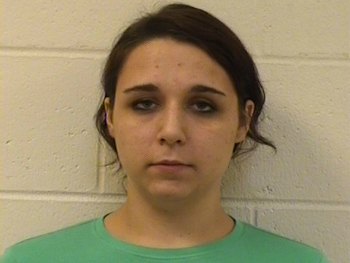 Today's special person is the "sweet" Sean D. Janas
A 20-year-old Wausau woman was in Marathon County Jail on Monday on charges that she slit the throat of her boyfriend's dog after poisoning it with Drano and bleach.
Sean D. Janas appeared in Marathon County Circuit Court and was held in jail on a $2,500 cash bond. She is charged with felony mistreatment of animals, giving poison to an animal and obstructing an officer. She faces more than five years in prison and $30,000 in fines if convicted of all charges.
Marathon County Assistant District Attorney LaMont Jacobson said Janas kept a diary with "disturbing content" in relation to the abuse suffered by the dog, a 4-year-old German shepherd-Labrador mix named Mary.
Entry:
"I need to find a way to kill her without it looking like I killed her," Janus wrote. "I've done lots of things already. I've given her drano, bleach and a lot of pain pills lol one night she got all tweaked out because of it, it was so funny."
In another entry:
"I have never hated an animal so much in my life, much less hate one or beat one. But the pleasure I get from watching her whimper in pain and cry out for help as I shove drano and bleach down her throat is like no other"
According to the criminal complaint, police believe Mary was killed June 4 after suffering months of abuse. A veterinarian told police the dog had been brought to a local clinic on April 11 for treatment after a resident found the animal wandering in the street, bleeding from her head. Mary's owner reported the animal had been vomiting blood for about a week prior to its death.
Neighbors reported hearing Janas yelling at the dog and later observed her striking the dog in the back yard with a leash. They believe she also stabbed the dog.
Roommate and dog owner
Steven Kuick
was unaware of Janas' efforts to kill his pet.
Update November 30, 2012
A court-date has been announced for the woman accused of poisoning and killing her ex-boyfriend's dog. 20-year-old Sean Janas will be in Marathon County Court on December 3rd for an arraignment hearing. She'll be asked to enter a plea to felony animal abuse charges.
If convicted she could get 5-years in prison and over $30,000 in fines. The judge and prosecutor have received hundreds of letters and emails from the community calling for the maximum punishment.