Mardi Gras - the biggest free show on earth - is truely a remarkable event. In New Orleans the season starts on
Twelfth Night,
aka Kings Day (January 6th) and runs through
Fat Tuesday, Mardi Gras day.
This year we are experiencing the longest Mardi Gras season in our lifetimes. I can't complain, because that means a longer period to eat King Cake!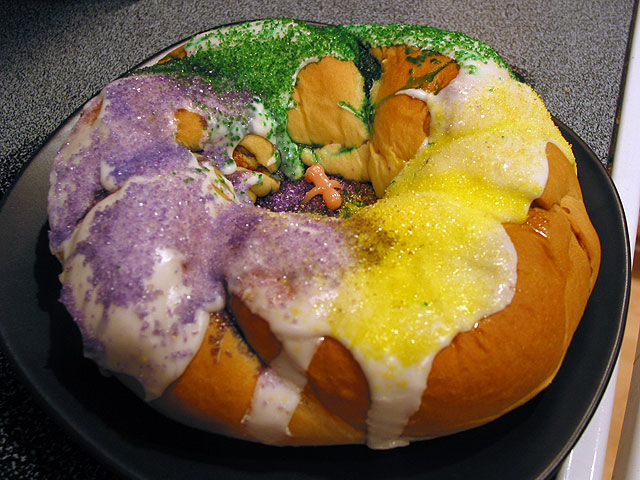 Come midnight this coming Tuesday there are going to be some people who feel as if they've partied since January 6th. The out of towners who come here to
lose their identities for a weekend
. And the young kids, like my 22 year old daughter, who want to be in the heart of it all, breathing it all in and hoping the drinks and parades don't end early.
I used to be like that. I used to get up early and leave the house in Slidell by 6 a.m., come rain or shine to make sure we secured a spot on St. Charles Avenue. We sipped our spiked coffee, our coolers were full of beer and sandwiches, snacks and drinks for the kids. We were prepared for a day of fun. Mardi Gras music evokes such good memories of those days.
I'm happy to have made all of those memories. I have seen Mardi Gras from balconies on Bourbon Street, I've been in the crowds on Bourbon Street.
I've done Mardi Gras in
Metairie
and from the stands of
Gallier Hall.
I love the traditions of the Krewes of
Zulu and Rex
. The chance of seeing marching Bands like
St. Aug's Marching 100
and Southern University will always excite me.
I even withstood and entire truck parade......once.
I've been to the
Krewe of Dreux
but haven't made it to the
Krewe du Vieux
.
I've never "shown my tits". That's for drunken tourists.
Now I am at the point in my life where I can let Mardi Gras go on without me. Not unike
NOLA blogger Cliff
. I can leave the parades and balls to the Carnival enthusiasts and celebrate the season in my own way. At home with a King Cake, Abita Beer, Zapps Chips and Popeyes chicken. No worries about traffic and DWI's, trying to find a place to pee on Mardi Gras Day.
I wouldn't ever move away from here, because Mardi Gras is only a small piece of the beauty and culture there is available in this tiny speck in the world.