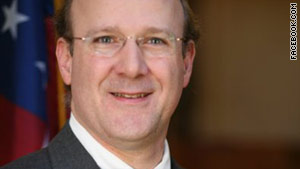 Georgia State Representative Bobby Franklin
This one really should be locked up in a padded room.
Bobby Franklin — who last year
proposed making rape and domestic violence "victims" into "accusers"
— has introduced a
10-page bill
that would
criminalize miscarriages and make abortion in Georgia completely illegal. Both miscarriages and abortions would be potentially punishable by death
: any
"prenatal murder"
in the words of the bill, including "human involvement" in a miscarriage, would be a felony and carry a penalty of life in prison or death. Basically, it's everything an "pro-life" activist could want aside from making all women who've had abortions wear big red "A"s on their chests.
Excerpt of an article from
Mother Jones dot com.
This is truely insane, but hey, who am I to judge? Bobby's got it all figgered out.