From New Orleans City Business dot com

The state of Louisiana will use $101 million in hurricane protection money for a long-awaited levee project in Terrebonne Parish.




The state dollars, combined with $94 million in local money and federal block grant aid, will go toward the Morganza-to-the-Gulf project — a system of levees, floodgates and a lock — that was first proposed 16 years ago to protect Terrebonne Parish and parts of western Lafourche Parish.




Authorized by Congress in 2000, then again seven years later, the project has been mired in red tape. Jindal called delays by the U.S. Army Corps of Engineers unacceptable.




"For too long the federal government has been sitting on their hands while our coasts remain vulnerable," Jindal said in an address at the Bayou Terrebonne Waterlife Museum. "The time for studies, the time for waiting is over."

Only one section of the Morganza, levee, a three-mile levee in Pointe-aux-Chenes has been built since the project was proposed in 1992. Under the local plan, the remaining levees will be built from Dularge to Pointe-aux-Chenes along the alignment approved by Congress in 2007 and will be built to corps standards when feasible and cost-efficient.

The interim levees can be bolstered later, proponents have said. Several pieces of the alignment are in the design phase and work on various sections will proceed simultaneously, Terrebonne Parish levee board President Tony Alford said.

The Morganza package includes $101 million from state surplus money, state construction dollars and funds set aside for the Coastal Impact Assistance Program. The rest will come from a special local tax dedicated to the project and federal Community Development Block Grant money.

About $7 million of the money will be used immediately to build a three-mile section of levee in Chauvin. Workers were expected to break ground this month on the dirt levee, which will provide storm-surge protection to east Houma, Chauvin and Grand Caillou, all communities that experienced unprecedented flooding during Hurricane Ike last year.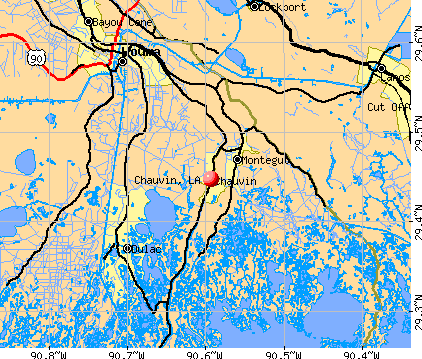 Terrebonne Parish had twice the damage of any other parish in Louisiana from the twin blows of hurricanes Gustav and Ike in September, Parish President Michel Claudet said.

Hurricane Gustav blasted through Terrebonne Parish on Sept. 1 after making landfall near Cocodrie, knocking down trees and utility poles by the hundreds and shearing apart roofs and homes. About 10 days later, Ike, which made landfall in Galveston, Texas, pushed up to 9 feet of storm surge into lower Terrebonne Parish, flooding an estimated 2,500 homes and businesses from Dularge to Pointe-aux-Chenes.

The destruction from the 2008 storms came three years after Hurricane Rita flooded about 10,000 homes and businesses in the same area.

Jindal praised residents' resilience in rebuilding, noting the federal government has paid out millions in storm claims.

Decades of wetlands loss and coastal erosion have also made the parish more vulnerable to Gulf storms.

"We've got to get this done," Jindal said of the levee project. "Time is not on our side
.