From Saturday's TP
In a macabre identity theft scam, a Slidell hospital employee sent her son cell-phone text messages with the personal information of dying patients so he could submit fraudulent credit card applications in their names as soon as they died, authorities said.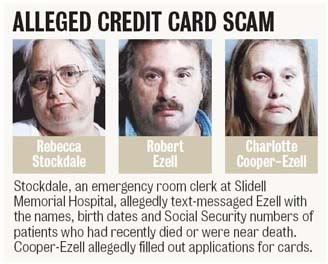 The mother-son team is accused of stealing the identities of more than 100 dead people and obtaining at least 17 fraudulent credit cards, which they used to buy thousands of dollars worth of merchandise, sheriff's deputies said.
He said Ezell used the information to submit credit card applications in the names of the deceased, using addresses of unoccupied homes that had been damaged by Hurricane Katrina near his house at 2218 Bluebird St. in the Ozone Woods subdivision, authorities said.
"He would check the mailboxes regularly to see if any credit cards had arrived," Strain said.
These people are lower than low. Hope they throw away the keys on these bastards.